NEWS & INFORMATION
Institute of Leadership & Management (ILM City & Guilds)
01/03/2020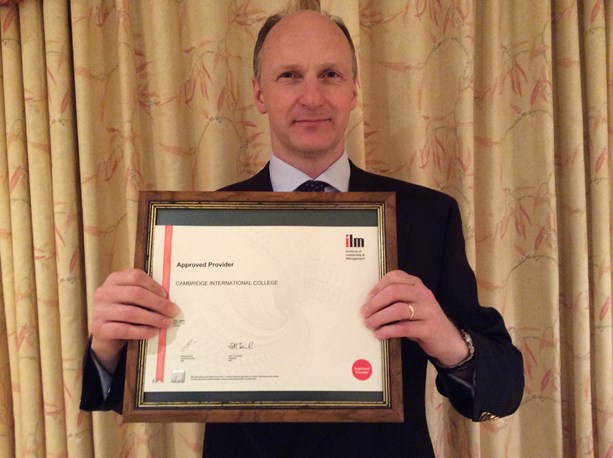 Cambridge International College is recognised worldwide as an accredited, approved British College.  One of the British Awarding Bodies which approves and endorses CIC and CIC qualifications is the Institute of Leadership & Management (ILM) City & Guilds. CIC is recognised as an ILM Approved Provider. 
CIC's ILM 'Approved Provider' status means that you may - if you want and choose - be awarded an additional ILM City & Guilds Endorsed Certificate for the Subject in which you have gained a Cambridge International College Diploma or Award; for an application form click on "Learn More" below.
Various Cambridge International College Programs are approved and endorsed by ILM City & Guilds including:
Higher Business Administration (including for CIC Honours Diplomas)
Advanced Business Administration (including for CIC Baccalaureates)
Executive Business Administration
Advanced Mastery of Business Management & Administration (including for the CIC Advanced Mastery of Business Administration)
Employment: ILM City & Guilds endorsed qualifications give employers the assurance that programmes you have studied are developed, tested and delivered to high standards.
Students/Members/Graduates: You have the confidence that are qualified to perform to industry standards in a managerial and/or leadership role. 
Quality: An ILM Endorsed Certificate provides additional proof to current and prospective employers, sponsors, scholarship and bursary organisations, higher education establishments (such as universities), and other interested parties, that you studied with an approved British College and completed an endorsed high-quality management training programme.  
Investment: The ILM Endorsed Certificate confirms that your CIC programme attained the benchmark for high-quality management and leadership training, is quality-assured, credible and validates your investment in your training.
ILM is the UK's largest awarding organisation for qualifications in leadership, management and enterprise. 
Learn more »
Share this: