AFFILIATES
Karial Training College - South Sudan
01/04/2019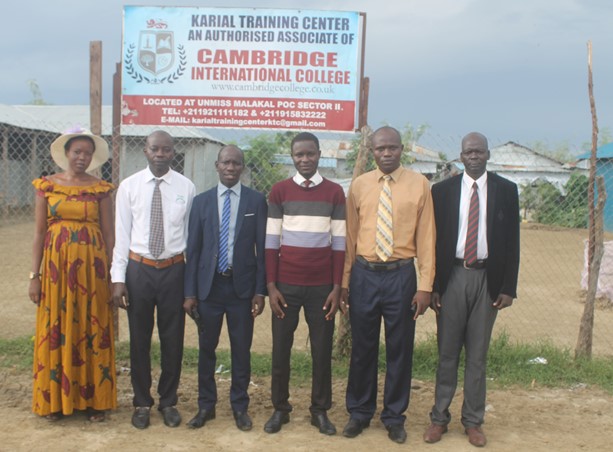 Karial Training College, which is operated under the oversight of Joseph Magei Galuak Mayual, is an Associate of Cambridge International College in South Sudan.

As an Associate of CIC, Karial Training Comllege is bound to operate always within the rules and regulations specified by Cambridge International College, and may:
facilitate enrolments of applicants with CIC (including transfering applicants' fees to CIC),
operate as a local point of contact,
give advice and distribute literature,
arrange invigilation of examinations,
provide various other related services and assistance.
Contact details are:
Joseph Magei Galiak Mayual (Director) and David Masolo (Coordinator)
Karial Training College
UNMISS Malakal Protection Of Civilians Site (Poc)
Upper Nile State
South Sudan
Tel: +211 912064310 : +211 91583222 : +211 921111182 : +256 786903441
Email: karialtrainingcenterktc@gmail.com and galuak@un.org
Pictured are: 
1. Joseph Magei Galuak, KTC Director.
2. David Masolo, KTC Coordinator.
3.Mr. Masereka Godwin, KTC teacher.
4. Mr. Okello Denis, KTC teacher.
5. Mr. Wasukira James, KTC teacher.
6. Mrs. Rehila Daniel Tibo Ukuach, KTC Finance Officer. 
Mr Joseph also features in the CIC Summer 2019 Newsletter - see the articles about the CIC 2019 Graduation Ceremony in 2019 (in Cairo, Egypt) - which was also attended by several other Graduates from South Sudan.
(Monies or fees given to or received by Karial Training College for transfer to and enrolment for Cambridge International College courses are the responsibility of Karial Training College until the monies or fees are received by Cambridge International College in Britain.)
Share this: